Corresponding author for proof
Alexander Rivkin, MD
Westside Aesthetics
11645 Wilshire Blvd., Ste. 800
Los Angeles, CA 90025
arivkin9@gmail.com
310.443.5273
INTRODUCTION
Surgical rhinoplasty remains one of the most popular cosmetic procedures performed on the face. Statistics from the American Society of Plastic Surgeons put the number of rhinoplasties performed in the United States in 2018 at >200,000 [1]. As with any surgical procedure, patients undergoing rhinoplasty are subject to risks, recovery time and expense. Patients who wanted to avoid surgery previously did not have a viable alternative procedure that could accomplish the cosmetic goals of rhinoplasty non-invasively. With the advent of long-lasting injectable fillers, however, physicians and patients have finally embraced a non-surgical surrogate.
I first performed primary Non-Surgical Rhinoplasty (NSR) using calcium hydroxyapatite (CaHA; Radiesse®, Merz Aesthetics, Raleigh, NC) injectable filler in 2003, prior to the publication or report of such a procedure being done in the United States. The novelty of the procedure caught the attention of the media and I performed it on several prominent national news programs and shows. This sparked the interest of the public and practitioners around the country began to offer NSR to their patients. Due to the efficacy and assumed simplicity of the NSR, it has steadily grown in popularity over the last 15 years. Since 2003, I have had the privilege to perform over 8,000 of these procedures in my clinic, using a variety of injectable fillers, with great success. NSR is not a replacement for rhinoplasty, but for appropriate patients, it provides a more accessible and often a more precise means of accomplishing their aesthetic goals non-surgically.
This chapter describes common conditions treated by the NSR technique as well as the critical measures that should to be taken to optimize safety.
NSR PROCEDURE
Cautions of the NSR Procedure
The nose is the most dangerous area to inject filler anywhere in the body. The incidence of blindness after nasal injection is higher than injection anywhere else on the face. Ischemia and necrosis are also very possible risks. Practitioners who attempt to inject the nose should already be expert aesthetic injectors with an excellent understanding of anatomy, injection safety and effective injection techniques. Before and after pictures of NSR patients attract attention on Instagram, but this is not the area to inject for novice injectors beginning a cosmetic practice.
Conditions Treated
All subunits of the nose may be injected (Figure 1). NSR corrects mild to moderate cosmetic nasal irregularities and may treat the following cosmetic goals:
Raise and enhance the definition of an underdeveloped nasal dorsum. This condition is common among patients of Asian and African American descent (Figure 2).
Camouflage a dorsal bump (Figure 3)
Raise and enhance the definition of a ptotic tip (Figures 3 and 4)
Straighten an upturned nose (Figure 5)
Correct asymmetry of the tip or dorsum by subtly augmenting the weaker side
Correct post rhinoplasty contour defects. Most commonly, these present as:

Saddle nose deformity or other type of dorsal cartilage collapse (Figure 6)

Cartilage or graft skeletonization

Dorsal asymmetry due to asymmetric scarring

Over-rotated tip (Figure 7)

Asymmetry of the tip due to post-surgical scarring or cartilage over-resection

Alar retraction (Figure 7)

Reduce the appearance of the size of the nose.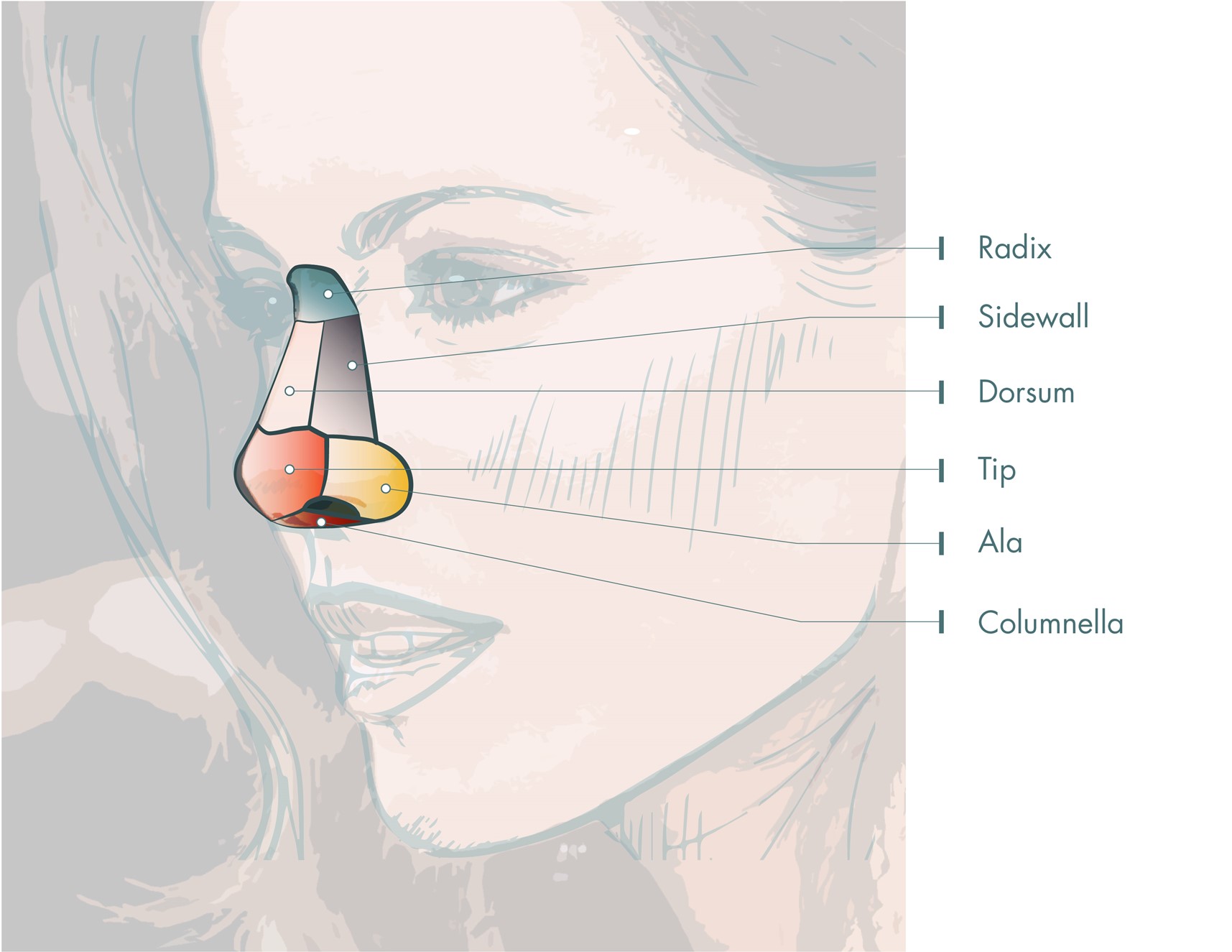 Figure 2. Patient with underdeveloped nasal dorsum. The radix and dorsum were injected with 0.2cc of CaHA into each area.
Figure 3. Patient with bulbous, ptotic tip and a dorsal hump. A total of 0.4 cc VYC-20L was injected into the following areas: radix (0.15 cc), tip (0.2 cc) and dorsum (0.05 cc).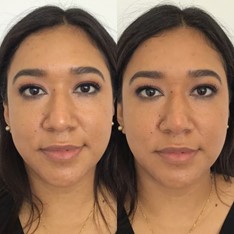 Figure 4. Patient with tip ptosis. A total of 0.5 cc VYC-20L was injected into the following areas: radix (0.2 cc) and tip (0.3 cc).
Figure 5. Previous surgical rhinoplasty patient with an over-rotated tip, mild columellar retraction and right alar retraction. She also had a crooked appearance to her nose from the frontal view due to a small volume deficit on the right sidewall. A total of 0.6cc VYC-20L was injected into the following areas: radix (0.1cc), dorsum (0.15cc), sidewall (0.05cc), tip (0.2cc), right ala (0.1cc).
Figure 6. Previous surgical rhinoplasty patient with an over reduced dorsum. A total of 0.75cc VYC-20L was injected into the following areas: radix (0.1cc), dorsum (0.1cc), sidewall (0.15cc), tip (0.2cc) and ala (0.2cc).
Figure 7. Previous surgical rhinoplasty patient with an over-rotated and over-projected tip, overgrowth of left sidewall scar tissue and alar retraction. A total of 0.7cc VYC-20L was injected into the following areas: dorsum (0.15cc), sidewall (0.15cc), tip (0.2cc) and ala (0.2cc).
Fillers Used for the NSR Procedure
Whereas nearly all dermal fillers have been reportedly used for the NSR procedure, hyaluronic acid (HA) fillers are the most popular due to the ease of reversibility and are recommended for the beginning or occasional injector of the nose. The ability to dissolve HA via hyaluronidase is a critical safety feature for all injectors, especially those who are not yet expert in the NSR technique.
The literature contains reports of severe complications from every type of filler available and I personally have successfully used every filler material in the nose. None of the commercially available fillers in the U.S. are specifically contraindicated for nasal injection. The most commonly used fillers for NSR include calcium hydroxylapatite (CaHA; Radiesse®, Merz Aesthetics, Raleigh, SC), polymethyl methacrylate (PMMA; Bellafill®, Suneva Medical, San Diego, CA), small and large particle non-animal stabilized hyaluronic acid (Small particle and Large particle NASHA; Restylane® and Restylane® Lyft, Galderma, Fort Worth, TX), HYC-24L+ (Juvéderm® Ultra Plus, Allergan, Madison, NJ), and VYC-20L (Juvéderm® Voluma, Allergan, Madison, NJ). Table 1 describes the various fillers and their respective nasal areas for correction.
Table 1. Fillers commonly used for the non-surgical rhinoplasty procedure
| | | | | |
| --- | --- | --- | --- | --- |
| Filler | Nasal Area Correction | Density Characteristic | Approximate Longevity | NSR Injector Experience |
| HYC-24L+ | Bridge augmentation; minor dorsal humps | Soft | 6-8 months | Novice |
| Small particle NASHA | Bridge augmentation; minor dorsal humps | Stiff | 6 months | Novice |
| Large particle NASHA | Sculpting and defining all areas | Stiff | ~8 months | Moderately experienced |
| CaHA | Best product for sculpting/defining: tip elevation, dorsum lifting and definition | Stiff and Dense | 9-10 months | Advanced |
| VYC-20L | All areas | Dense | 12-18 months | Advanced |
| PMMA | All areas | Soft | 7-9+ years | Advanced |
Because of its duration of effect and reversibility, I have been using VYC-20L for the majority of my NSR cases over the last seven years. The filler performs well for most patients in every area of the nose, except those who need significant elevation of their dorsum or tip and those who need the creation of sharp defining points in the context of a rounded nasal tip. CaHA is the only filler thick enough to provide the desired lift and definition in these situations. For these patients, the NSR procedure usually involves a combination of CaHA and VYC-20L to achieve optimal duration of effect, however, caution must be taken when layering fillers as this is the riskiest and most advanced technique. Ischemia is a very real danger, especially in the tip – an area that should in any case be reserved for the most advanced injectors.
Preparing the Filler
For maximum patient comfort and safety, HA filler should be transferred into a 0.3 cc, 31 gauge diabetic syringe (Beckton Dickinson, Franklin Lakes, NJ) in a sterile manner by carefully removing the plunger of the smaller syringe, placing 0.2 cc of filler into the syringe and replacing the uncontaminated plunger. 21 gauge, 1.5" needles work well for product transfer. The rheology of the small syringe permits all FDA approved HA fillers (including VYC-20L) to flow through the 31 gauge needle at reasonable injection pressures. These small syringes have three major advantages over the regular filler syringe fitted with a 27 gauge needle. First, they are safer. The amount of product with each injection is small, thus significantly decreasing the chance of large volume embolization occluding a vessel. These smaller needles also permit injections with less extrusion force, thereby decreasing the likelihood of retrograde emboli overcoming systolic blood pressure and getting to the ophthalmic vasculature. Second, the BD syringes permit better precision by allowing individual boluses as minute as 0.01cc. Third, this method hurts less, not only because the needle is significantly smaller, but also because a smaller syringe is handled more gently.
The 31 gauge syringe transfer technique works well for all HA fillers, but CaHA or PMMA will not flow through a needle this small. These fillers should be injected through the provided 27 gauge, ½ inch needle with great care (low pressure, small boluses, slow and gentle movement throughout the time that filler is flowing through the needle) to preserve precision and comfort as well as to ensure safety.
NSR Injection Procedure
Standardized photographs from the front, oblique and profile positions should be taken prior to and after every NSR procedure. An iPad with a good camera is usually sufficient. Patients should stand in front of the same blank background with light conditions as similar as possible between pre and post photos. The camera should be held a standard distance from the patient, keeping in mind that if the camera is too close, the resulting photo distorts the face and the nose may appear unrealistically prominent.
The NSR procedure should be performed with the patient sitting up straight in the chair with the head leaning against a head rest in order to minimize movement. The injector should be positioned in front and to the side of the patient, permitting injection from the front and from the side. This positioning lets the injector continuously assess the cosmetic effect of the injections from the most critical views – front, profile and oblique. The injector can walk around the patient, making tiny adjustments to the contours of the nose so that the relationship of the nasal subunits and the overall aesthetic outcome is optimal from every angle. Injecting from a position superior to the patient's head is not recommended because the injector is unable to assess the aesthetic outcome with each injection. The injector should involve the patient in the procedure by handing the patient a mirror and requesting feedback at convenient points in the process.
NSR is a procedure with minimal discomfort. Local lidocaine injection is unnecessary and can distort contours critical to an optimal outcome. Topical pain medication containing lidocaine should be avoided, if possible, to reduce vessel dilation and tissue swelling that may increase the incidence of bruising and limit the ability to visualize natural nasal contours. For patients who insist on an anesthetic, a compounded triple anesthetic cream may be applied 15-20 minutes prior to the procedure. Nitrous oxide gas is also effective in reducing anxiety and pain. Distraction is an effective technique to decrease discomfort as well.
The area of the nose to be injected is iced for approximately 30 seconds to 1 minute, which constricts the blood vessels and reduces the chance of vessel perforation and embolism. Post rhinoplasty patients where dermal blood supply is of concern should not ice. The skin is then cleaned with chlorhexidine 2–4% or 70% alcohol. Frequent re-application of the antiseptic is warranted to avoid contamination and maintain a clean field. During the injection, if possible, an assistant should tap the patient's contralateral shoulder to distract attention from the needle.
Filler is placed into the necessary areas at the perichondrial or periostial level as small boluses or as short linear threads. Small boluses of ≤0.03 cc are preferred as they allow the injector to smooth contours, create edges and blend everything in a way that results in a natural appearing nose. Areas such as the radix, dorsum, sidewall, tip, columella and ala are injected as needed to correct each individual irregularity. The filler is then massaged and molded to blend into the desired contour.
The following are some of the more common nasal contour irregularities I see in my practice and how I correct them.
Tip ptosis – I inject directly into the tip with the needle entering the skin perpendicularly and deposit a series of tiny aliquots of filler. I try to emphasize defining points of the tip and make sure that I am lifting and projecting without making the tip wider. Since I want to lift the superior most aspect of the tip skin, injections should be concentrated over the tip defining points. If the patient has some columellar retraction, augmenting the columella very carefully (this is an ischemia danger zone) elevates the tip both physically and as a matter of perception.

Dorsal bump – I inject into the radix and the dorsum – above and below the bump – in an effort to camouflage the bump. Injections are performed as a series of tiny columns delivered perpendicularly to the skin, injecting from the periosteal level as the needle is in motion on its way out of the skin and massaged into a smooth contour. Often, the tip has to lifted as well so that it does not look ptotic on profile. Radix injections have to be conservative to avoid a Roman appearance to the nose on profile. I make sure that the dorsum and radix injections are enough to lift the skin, but not so much as to overly widen the areas being injected.

Underdeveloped dorsum and radix – I lift the skin as much as possible using column injections throughout the dorsum and radix and blending them together with massage. I often use the first two fingers of my non-dominant hand to hold the sidewalls, making sure that filler is not augmenting laterally.
The patient goes home with instructions to avoid NSAIDs, alcohol and strenuous exercise that day, as well as heavy sunglasses for two weeks. The volume effect of HA and CaHA fillers decreases by about 25% within the first month. It is thus recommended that practitioners include a complementary follow up visit three to six weeks after the initial injection to touch up the results when using these products.
For NSR procedures using PMMA, patients should return four to six months after the initial treatment for a second session. Neocollagenesis with PMMA is usually not quite enough to replace the resorbed bovine collagen component of the filler, thus the initial correction after the first session will need more material after a few months. The second session should not be scheduled prior to four months to give ample time for neocollagenesis to occur. Re-treating too soon runs the risk of overcorrection if neocollagenesis is still in progress. Because PMMA is non-dissolvable and long lasting, injectors must take great care to ensure that overcorrection does not occur.
Blunt tipped cannulas are frequently advocated for all filler injections as a method to reduce potential complications and discomfort [2, 3]. Cannulas, however, are not recommend for NSR as cannulas limit precision. It is much easier to know the exact location of a short needle tip than the tip of a long cannula that bends easily as it is advanced through the tissue. The aesthetics of the nose are particularly sensitive to the smallest contour asymmetries. Corrections are accomplished by enhancing tissue in fractions of a millimeter. The smallest difference in fullness between the two sides of a tip is clearly noticeable and a 1/2 mm deviation from the midline when augmenting a dorsum makes the nose appear off center.
Guidance regarding aspiration prior to injection of filler to avoid vascular embolism is divided in the literature. In my experience, this is a cumbersome practice with questionable benefits. Most fillers are thick gels. Building up enough negative pressure for aspiration of blood necessitates considerable force and is not possible with 31 gauge BD syringes. Even in experienced hands, by the time one aspirates and then injects, the needle is no longer in the same place, rendering the test useless. Aspiration also limits the injector by forcing them to place boluses and not move the needle as they inject. In my experience, moving the needle during injection is a critical safety maneuver that is considerably more reliable than aspiration.
Rather than aspirating, the following guidelines are accepted best practice standards for injecting filler and preventing complications:
Needle diameter should be as small as possible to decrease filler flow rate and amount injected.
Fillers should always be injected slowly and under low pressure, especially in the nasal area. Blindness complications in the literature occurred because a filler embolus was injected with enough force to overcome systolic blood pressure and travel into the ophthalmic vasculature. Gentle and slow injection technique should go far in preventing this complication.
If filler is flowing out of the needle, the needle should be moving retrograde, i.e., out of the skin. Thus, even if the tip of the needle is inside the lumen of a vessel at some point, only a tiny amount of filler will enter the vessel, as the needle will be elsewhere the next moment.
Volumes of less than 0.03 cc of filler should be deposited with each injection.
Always ice the site prior to injection. Ice decreases pain and shrinks blood vessels, making vascular perforation less likely.
When injecting the radix, pinching the sides in an effort to compress the dorsal nasal and supratrochlear vessels may decrease the risk of embolism.
Adverse Events and Management
Adverse events (AEs) with NSR are typical of filler injections in all facial areas. Bruising, transient erythema and short term swelling represent the majority of documented responses. Infection and nodule formation are extremely rare AEs.
Prolonged erythema of the skin of the tip of the nose may be encountered with treatment in the area, however, this can usually be managed with a vascular laser and make-up. Tip injection can also result in prolonged tenderness of that area for several months. Patients usually adapt and refrain from touching their nasal tip. If the tip continues to be tender and painful, dissolving some of the filler with hyaluronidase is the only way to correct this issue.
Although the NSR procedure is relatively straight forward, there are more than a few publications reporting cases of serious AEs including visual impairment and skin necrosis. Ischemia, tissue loss and blindness are very real possibilities when injecting the nose due to the relative paucity of dermal blood supply in areas such as the tip and ala as well as the proximity of the ophthalmic vasculature to the radix. Every injector who contemplates performing NSR must be comfortable both diagnosing and managing ischemia correctly and expediently before it develops into necrosis. Causing ischemic changes in the skin is not a matter of "if" with NSR, it is a matter of "when," given enough procedures are performed. Only practitioners with extensive experience both injecting fillers and treating filler complications should take up aesthetic injection of the nose.
Ophthalmalgia and/or visual loss within minutes of filler injection are signs of retinal artery embolism. Other signs of ophthalmic vasculature embolism include immediate diaphoresis, nausea, headache, ophthalmoplegia and ptosis. Sudden pain, blanching, duskiness, slow capillary refill and ecchymosis in the injected area are all danger signals for ischemia and necrosis. Compromise of the blood supply to the skin may be caused by either intravascular embolism or small vessel compression by the injected filler.
All injectors should have the following on their AE crash cart:
Hyaluronidase – at least six unexpired vials
Aspirin – 325 mg
Warm compresses
Topical 2% nitroglycerin paste
Oral steroids – Medrol dose pack or the equivalent
Near vision card
Pen light
Smelling salts
Suspected blindness should be objectively documented via vision card and ocular reflex testing. Practitioners should have a plan for managing impending blindness. Anyone injecting the nose should be prepared to perform retrobulbar or at least peri-bulbar injection of hyaluronidase because vision loss will be permanent unless reversed in less than 90 minutes [4]. Other maneuvers such as inducing hypercapnia and pulsed ocular massage have been described in the literature [5]. Any practitioner injecting the nose would be wise to initiate and maintain a relationship with a nearby retinal specialist. In a moment of crisis, their timely intervention could save a patient's vision.
The best chance of avoiding any complication is to understand the anatomy (keeping in mind the ever-present individual variability of vessel location), always practice safe injection technique and have well-prepared management protocols ready to launch at any sign of danger. Vascular anatomy of the external nose is illustrated in Figure 8.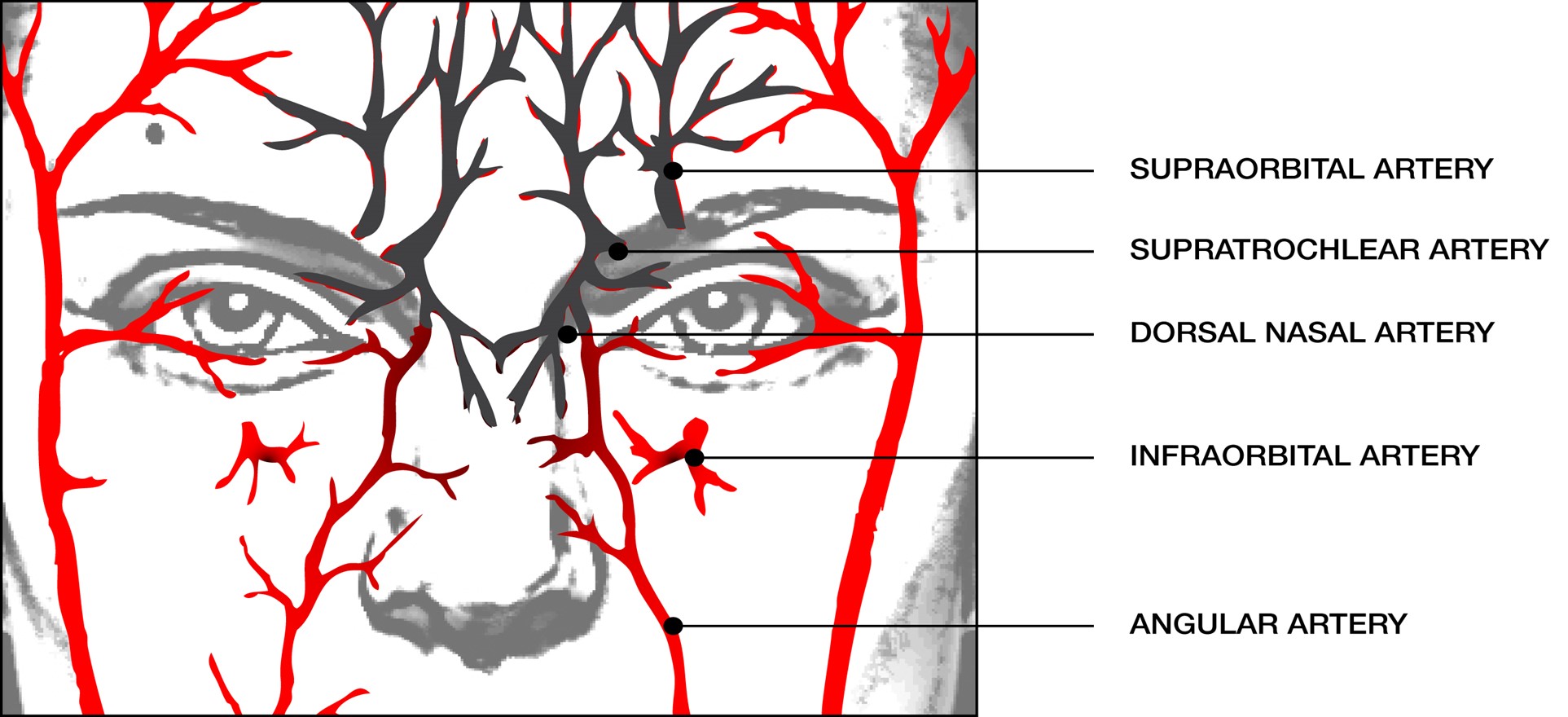 Practitioners must be especially careful when injecting the radix and nasal sidewall to avoid the dorsal nasal artery and angular artery branches, respectively. Since the arteries are understood to run on the lateral aspect of the nose, injectors may be tempted into a false sense of security when injecting only in the midline. Although the midline may be somewhat safer, recent research demonstrates that the branches of the external and internal carotid system in the nose are very much interconnected in the SMAS layer [6]. There are no guaranteed safe injection zones in the face, and this is especially true in the nose. Safe injection technique should therefore focus on keeping the needle deep instead of trying to avoid specific vessels.
Complication management starts with the preventative measures outlined above. If, however, the clinician suspects that an ischemic event is unfolding (blanching of the skin, dark discoloration of the skin, mottled discoloration of the skin known as livedo reticularis, sudden pain), there are immediate steps that should be taken:
Stop injecting
Massage vigorously
Apply warm compresses to the area
Administer aspirin 325 mg
If the skin does not pink up within 5 minutes, hyaluronidase should be injected throughout the involved area. The size of the area involved determines the dose of hyaluronidase, ranging from 50 to 300 units. The enzyme injection should be repeated hourly until normal capillary refill is observed [7].
Hyaluronidase should be injected even if a non-hyaluronic acid filler has been used. Hyaluronidase is useful because it dissolves some native hyaluronic acid within the tissues and decreases interstitial pressure easing blood flow.
Topical 2% nitroglycerin paste may be used as a fast-acting vasodilator while awaiting the effect of the hyaluronidase.
If the skin becomes pink again and remains so after ~15 minutes of observation, the patient may be sent home with instructions to take 325 mg aspirin every 4 hours, warm compresses and periodic massage of the area, for the following 24 hours.
If the skin becomes dusky, hyaluronidase and nitropaste should be repeated hourly. Maintain observation of the patient in the office while applying warm compresses and massaging the area every hour. The patient should also begin oral steroid therapy. A Medrol dose pack should be provided to the patient and the first dose should be taken immediately. The patient should be seen in the office on a daily basis to monitor the progression of tissue damage. If damage continues to unfold, the injector should consider hyperbaric oxygen therapy and referral to a plastic surgeon.
While not really a complication, vasovagal episodes can be disturbing to the novice injector. Diaphoresis, sudden pallor, a sensation of nausea are all warning signs of an impending episode. It is more likely to happen if the patient has not eaten much prior to their appointment. In the setting of cosmetic injections, patients become vasovagal primarily because they are holding their breath in anticipation of pain. The frequency of these episodes drops dramatically when patients are reminded to breathe. Distraction shoulder tapping also helps patients tolerate injections without excessive anxiety. If the patient does become vasovagal, he/she should be placed in reverse Trendelenberg position, thus increasing blood flow to the brain. Place an ice bag behind the neck and give the patient something sweet to drink like orange juice or soda. Monitor the patient's pulse and blood pressure manually. The majority of patients will fully recover within a few minutes.
NSR in Patients with Previous Surgical Rhinoplasty
NSR in post-surgical noses warrants a specific discussion. Anyone who performs NSR must be aware that patients who have undergone surgical rhinoplasty in the past present with noses that are particularly technically challenging and risky. Surgical scarring stiffens the skin and limits the lift that may be achieved with filler. Patients must be counseled regarding realistic expectations. Post-surgical skin also has a more tenuous blood supply especially around the ala and tip. The risk of AEs has been found to be increased by 51% in patients with previous surgical rhinoplasty [8]. Furthermore, scarring under the skin can limit vessel motion and increase the risk of an embolic event. Only the most experienced NSR injectors should be treating post-surgical noses.
Surgeons who have operated on patients with a previous NSR have reported that filler material is still present under the nasal skin long after the cosmetic effect has faded. Rhinoplasty surgeons should always perform an injection of hyaluronidase prior to surgical rhinoplasty in a patient who has had NSR previously, even if it seems that the effect of NSR has completely disappeared. It is easier to dissolve the HA via injection than remove it intra-operatively.
Conclusion
When performed safely and correctly by an experienced and well-trained injector, NSR is a procedure that yields excellent results and high patient satisfaction. It is not a replacement to rhinoplasty for all patients and I continue to refer those that are not candidates (mostly patients who need significant reduction, alar correction or crooked nose correction) to my surgical colleagues. This procedure does, however, provide a valuable alternative to traditional surgery. It increases the pool of people opting for cosmetic correction of the nose, bringing in a significant population of patients who would never undergo surgery. For the patients who are candidates, it saves them expense, risk and downtime. Finally, the precision of filler injection means that this procedure is, in some cases, superior to surgery in accomplishing patients' cosmetic goals. I have built a large practice upon this procedure and continue to receive many referrals from happy patients.
REFERENCES
https://www.plasticsurgery.org/documents/News/Statistics/2019/plastic-surgery-statistics-full-report-2019.pdf
Han SK, Shin SH, Kang HJ, Kim WK. Augmentation rhinoplasty using injectable tissue-engineered soft tissue: a pilot study. Ann Plast Surg. 2006;56(3):251-5.
Beer KR. Nasal reconstruction using 20 mg/ml cross-linked hyaluronic acid. J Drugs Dermatol. 2006;5(5):465-6.
Surek C , Said SA , Perry JD , Zins JE. Retrobulbar injection for hyaluronic acid gel filler-induced blindness: a review of efficacy and technique. Aesthetic Plast Surg. 2019;43(4):1034-40.
Chatrath V, Banerjee PS, Goodman GJ, Rahman E. Soft-tissue filler-associated blindness: a systematic review of case reports and case series. Plast Reconstr Surg Glob Open. 2019;7(4):e2173.
Saban Y, Andretto Amodeo C, Bouaziz D, Polselli R. Nasal arterial vasculature: medical and surgical applications. Arch Facial Plast Surg. 2012;14(6):429-36.
DeLorenzi C. New high dose pulsed hyaluronidase protocol for hyaluronic acid filler Vascular Adverse Events. Aesthet Surg J. 2017;37(7):814-825.)
Rivkin A. Non-Surgical Rhinoplasty Using Injectable Fillers: A Safety Review of 2,488 Procedures. Facial Plast Surg Aesth Med. In press.
ACKNOWLEDGEMENTS
The author is a trainer and researcher for Allergan, Galderma, Merz Aesthetics, and Suneva.
The author would like to thank Diana Romero, PhD, for writing and editing assistance.