Introduction
Facial aging is a multimodal process involving all facial soft tissues and the underlying facial bones.1,2 The organization of facial fat into superficial and deep compartments utilizing cadaveric dissection studies has demonstrated the asynchronous volumetric changes in the superficial and deep fat compartments.3–5 Whereas most of the superficial fat compartments deflate and descend from their original position in a youthful face, the deep facial fat compartments do not change in position relative to the underlying bone.5
According to the American Society for Dermatologic Surgery, 73% and 63% of respondents of a consumer survey reported that they were somewhat to extremely bothered by excess fat under the chin/neck and sagging facial skin, respectively.6
A variety of options are available for jowl reduction, each with their set of advantages and potential complications. Broadly speaking, these procedures can be categorized as invasive or less invasive. Although invasive procedures were more commonly used in the past, less invasive procedures are becoming more popular among patients due to benefits such as shorter recovery time. Patients must be carefully evaluated in order to determine the mechanism of jowling present, since it is an important factor for determining the treatment modality that should be utilized.7
Mechanism of jowling-Anatomy description
The term "jowls" originates from an old English term "cholle" and can be translated as "fold of flesh under the jaw".8 Jowls refer clinically to the accumulation of soft tissues overhanging the jaw and diluting a sharp jawline contour extending from the labiomandibular sulcus until the anterior boundary of the masseter muscle. The presentation of jowls or the process of jowling is multifactorial but can be associated with increased age, body mass index, and skin laxity. Females are more prone to developing jowls when compared to males.
The formation of jowls can be explained by the underlying anatomy. The following soft tissue layers can be identified: skin, superficial jowl fat compartment, platysma, buccal space fat, periosteum of the mandible or buccinator muscle with the respective buccopharyngeal fascia coverage. The adhesion of the platysma to the underlying mandible plays a crucial role in the formation of jowls. Medial to the labiomandibular sulcus and starting with the presence of the mandibular ligament, the platysma is strongly adherent to the underlying bone. The platysma is not attached to the mandible lateral to the labiomandibular sulcus. There, it overlies the transition of the facial artery and facial vein from the neck into the face. Here, a slight amount of fatty coverage is present and covers the vessels, which have no direct contact with the fat located within the buccal space or with the buccal fat pad (located in the masticator space). Due to its loose attachment in this region, the platysma can glide inferiorly following the effects of gravity.
The superficial fat, which is here termed the superficial jowls fat compartment, is overlying the platysma and follows its movements. With increasing age, body mass index, and skin laxity, the platysma is displaced more inferiorly and with that the overlying superficial jowls fat compartment as well. The displacement of the superficial jowls fat compartment (due to the gliding of the platysma) is currently regarded as the major cause of jowl formation.
A previous study has revealed that males have more retinacula cutis compared to females per a defined area of skin.9 These results indicate that the connection between the platysma and dermal underside is stronger in males compared to females. For the formation of jowls, it means that females are at higher risk for developing jowls compared to males due to their natural subcutaneous architecture, which allows for a looser connection.
Including neurovascular structures into the layered anatomic concept, it has to be pointed out that no major neurovascular structures are located within the jowls (if it is accepted that jowls results from gliding of the supra-platysmal fat). The facial artery and vein are located deep to the platysma. The marginal mandibular branch of the facial nerve is likewise located deep to the platysma (Figure 1). However, the nerve can migrate into the 2D location of the jowls during the soft tissue descent; indicating that despite the nerve being located initially about 1cm cranial to the jawline, it can migrate caudally and be located deep to the jowls. Care should be taken when targeting the jowls, as the nerve might be injured during fat removal procedures that use a deep soft tissue approach.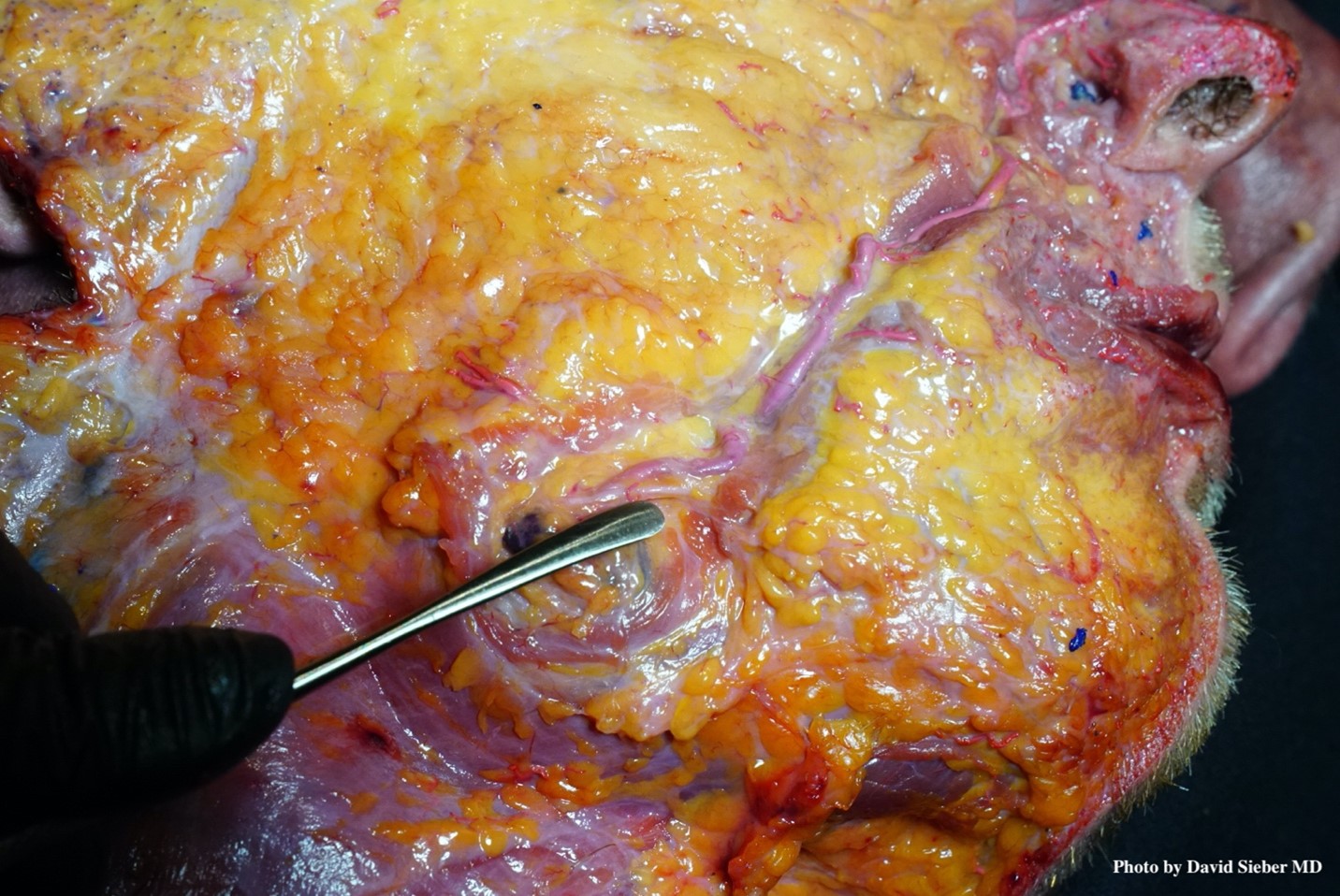 Procedures for Jowl Reduction
There are more traditional procedures available for the treatment of lower face aging and jowl formation, such as surgery with or without fat grafting. Recently, there is a demand for less invasive procedures due to shorter recovery times and lower morbidity. The following tables summarize the most popular treatments for addressing jowl reduction (Table 1 and Table 2).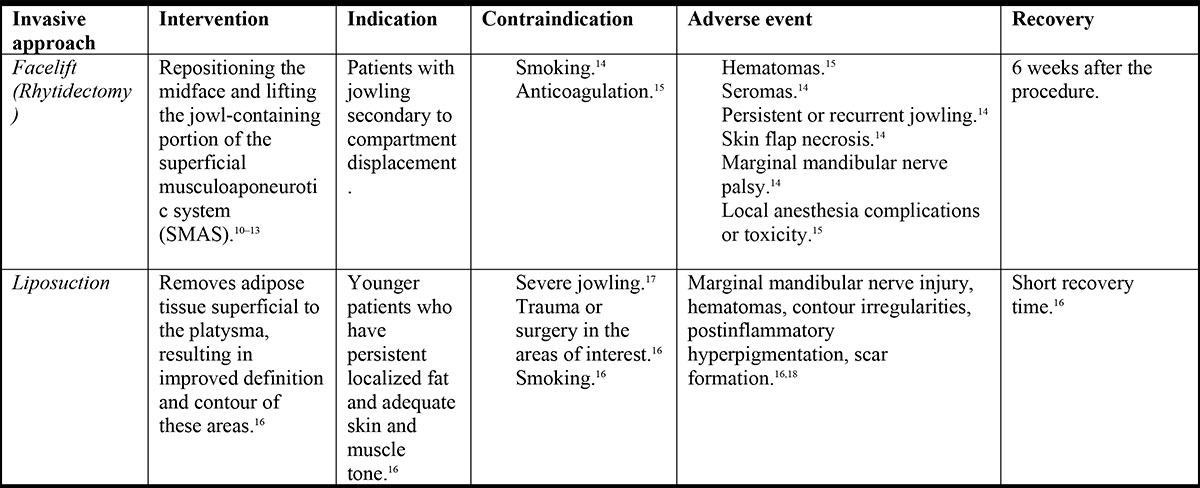 The Surgical Approach
The main processes involved in facial aging are aging of the skin, loss of volume, and descent of tissue. The laxity of the jawline and jowl formation are caused by a combination of loss of skin elasticity and tone due to lack of collagen, loss of subcutaneous adipose tissue, and laxity of the platysma. Since these causes occur in different grades and at different tissue layers, we would expect that a technique which addresses tissue lifting and concomitant subcutaneous fat transfer will result in a better outcome for selected patients. Dr. Alessandro Gennai, who is a plastic surgeon in Bologna, Italy has described a very unique technique of tissue repositioning combined with injection of "fluid fat." Dr. Gennai's personal approach is based on the class of laxity present. Medical treatment with SEFFI (by SEFFILLER™ kit) is used to regenerate the skin and restore volume in cases of mild to moderate laxity, while the NAL neck lift is used in cases of moderate to severe laxity. The following video illustrates the author's surgical approach for jowl reduction (Video 1).
Jowl reduction with Deoxycholic Acid (DCA)
In 2019, the main author published results demonstrating the feasibility of off-label use of DCA injections for jowl reduction as an adhortative procedure for lower face rejuvenation. From June 2016 to May 2017, we treated twelve patients, twenty-four jowls in total. Results of this early experience showed that DCA is an effective and safe alternative for jowl reduction; 20 out of 24 jowls were considered to have vastly or moderately improved. Our experience and number of treated patients has increased, as there is more interest and awareness from patients on lower face rejuvenation.
Patient Assessment

Examine patients in a sitting/reclining position and palpate sagging jowl fat along the mandibular line.

Treatment protocol

To identify the treatment area, draw a line through the lateral lip commissures towards the masseteric muscles (horizontal line) and draw another line through the nasolabial fold that intersects the "horizontal line" at the oral commissure (Figure 2B and Figure 2C).

Once the jowl area is identified, assess size (mild, moderate, severe) in order to determine the amount of DCA to be injected (Figure 3).

Jowls may be defined by circles 2-3cm in diameter. Injections are kept at about 1cm superior to the jawline in order to avoid marginal mandibular nerve injection. Injections are separated by 1cm in relation to one another and kept at the superior quadrants of the drawn circle.

DCA was injected subcutaneously with a Luer Lock BD syringe and a 32G half inch needle. At each injection site, 0.1ml of DCA was delivered (Video 2).
Results
Since the main author's initial study, he has treated 17 additional patients with a consistent treatment protocol for a total of 29 patients and 58 jowls. Our patient demographics are detailed in Table 3. Our average patient is a 60-year-old female with moderate jowling. Treatment response was assessed by the treating physician and patient according to the global aesthetic improvement scale (GAIS) and subject global aesthetic improvement scale (SGAIS), respectively (Table 4).
Over 90% of patients who have been treated with DCA for jowl reduction have demonstrated significant improvement. Patients with mild jowls may only require one treatment, while those with moderate jowls may require at least two treatments.
Side effects
The most common adverse events were induration, bruising, pain, and edema. They all resolved within a week of treatment (Table 5).
Discussion
Lower face aesthetic treatments are in high demand. Young female patients are requesting lip enhancement procedures, while young male patients searching for "more masculine" traits demand chin augmentation and jawline definition. In middle-aged and older populations, sagginess of the lower face and neck is one of the focal points of facial rejuvenation.38 The request for jawline definition with injectable implants has increased for men and women. For the middle-aged woman, jawline definition is not only about adding volume to the mandible; jowl reduction with DCA plays a prominent role in a successful outcome.
Jowl treatment with DCA is effective and safe. By following an injection pattern at least 1cm above the mandible border, we have not seen any marginal mandibular nerve injuries. Patient satisfaction is high and side effects are minor, usually resolving within a week. Patients with moderate jowls will require at least two sessions, with an average injection volume of 0.4-0.5cc per side. This procedure is usually performed alone or in combination with injectables along the jawline on the same appointment. For patients undergoing microfocused ultrasound (Ultherapy) to lift and tighten loose skin in the lower face, we combined treatment with DCA at the submental area and jowls in different appointments.
Our results provide evidence that off-label use of DCA injections for jowl reduction is safe, effective, and well-tolerated by patients. Compared to treatment of submental fat, jowls require less product and, consequently, side effects are mild and resolve within days.
Acknowledgement: Editorial and data analysis support in the form of assembling tables and figures was provided by Elizabeth Santos DrPH. Editorial support in literature review by Claudia Amaral BS


References
Cotofana S, Fratila AAM, Schenck TL, Redka-Swoboda W, Zilinsky I, Pavicic T. The Anatomy of the Aging Face: A Review. Facial Plast Surg. 2016;32(3):253-260. doi:10.1055/s-0036-1582234
Cotofana S, Gotkin RH, Ascher B, et al. Calvarial Volume Loss and Facial Aging: A Computed Tomographic (CT)-Based Study. Aesthetic Surg J. 2018;38(10):1043-1051. doi:10.1093/asj/sjy096
Wan D, Amirlak B, Rohrich R, Davis K. The clinical importance of the fat compartments in midfacial aging. Plast Reconstr Surg. 2013;1(9). doi:10.1097/GOX.0000000000000035
Cotofana S, Lachman N. Anatomy of the Facial Fat Compartments and their Relevance in Aesthetic Surgery. JDDG – J Ger Soc Dermatology. 2019;17(4):399-413. doi:10.1111/ddg.13737
Cotofana S, Gotkin RH, Frank K, et al. The functional anatomy of the deep facial fat compartments: A detailed imaging-based investigation. Plast Reconstr Surg. 2019;143(1):53-63. doi:10.1097/PRS.0000000000005080
ASDS Consumer Survey on Cosmetic Dermatologic Procedures. https://www.asds.net/medical-professionals/practice-resources/asds-consumer-survey-on-cosmetic-dermatologic-procedures. Accessed August 19, 2020.
Shridharani SM. Improvement in Jowl Fat following ATX-101 Treatment. Plast Reconstr Surg. 2020;145(4):929-935. doi:10.1097/PRS.0000000000006680
jowl | Origin and meaning of jowl by Online Etymology Dictionary. https://www.etymonline.com/word/jowl. Accessed September 29, 2020.
Rudolph C, Hladik C, Hamade H, et al. Structural Gender Dimorphism and the Biomechanics of the Gluteal Subcutaneous Tissue: Implications for the Pathophysiology of Cellulite. Plast Reconstr Surg. 2019;143(4):1077-1086. doi:10.1097/PRS.0000000000005407
Fedok FG. The Rejuvenation of the Aged Central Lower Face: A Contemporary Perspective. Facial Plast Surg. 2019;35(2):121-128. doi:10.1055/s-0039-1683857
Hamra ST. Commentary on: Total Composite Flap Facelift and the Deep-Plane Transition Zone: A Critical Consideration in SMAS-Release Midface Lifting. Aesthetic Surg J. 2016;36(5):546-549. doi:10.1093/asj/sjw019
AA J, LM B, NN A. A Novel Extended Deep Plane Facelift Technique for Jawline Rejuvenation and Volumization. Aesthetic Surg J. 2019;39(12). doi:10.1093/ASJ/SJY292
Wulu JA, Spiegel JH. Is deep plane rhytidectomy superior to superficial musculoaponeurotic system plication facelift? Laryngoscope. 2018;128(8):1741-1742. doi:10.1002/lary.27065
Rohrich RJ, Sinno S, Vaca EE. Getting Better Results in Facelifting. Plast Reconstr Surg – Glob Open. 2019;7(6):e2270. doi:10.1097/gox.0000000000002270
Cristel RT, Irvine LE. Common Complications in Rhytidectomy. Facial Plast Surg Clin North Am. 2019;27(4):519-527. doi:10.1016/j.fsc.2019.07.008
Persing S, Steinbacher DM. Submental Liposuction. In: Aesthetic Orthognathic Surgery and Rhinoplasty. Wiley; 2019:535-546. doi:10.1002/9781119187127.ch21
Patel BCK. Aesthetic surgery of the aging neck: Options and techniques. Orbit. 2006;25(4):327-356. doi:10.1080/01676830601034532
Koehler J. Complications of Neck Liposuction and Submentoplasty. Oral Maxillofac Surg Clin North Am. 2009;21(1):43-52. doi:10.1016/j.coms.2008.10.008
Schultz KP, Raghuram A, Davis MJ, Abu-Ghname A, Chamata E, Rohrich RJ. Fat Grafting for Facial Rejuvenation. Semin Plast Surg. 2020;34(01):030-037. doi:10.1055/s-0039-3402767
Reece EM, Rohrich RJ. The Aesthetic Jaw Line: Management of the Aging Jowl. Aesthetic Surg J. 2008;28(6):668-674. doi:10.1016/j.asj.2008.09.007
Reece EM, Pessa JE, Rohrich RJ. The mandibular septum: Anatomical observations of the jowls in aging – Implications for facial rejuvenation. Plast Reconstr Surg. 2008;121(4):1414-1420. doi:10.1097/01.prs.0000302462.61624.26
Coleman SR, Katzel EB. Fat Grafting for Facial Filling and Regeneration. Clin Plast Surg. 2015;42(3):289-300. doi:10.1016/j.cps.2015.04.001
Pu LLQ. Fat Grafting for Facial Rejuvenation and Contouring: A Rationalized Approach. Ann Plast Surg. 2018;81(6S Suppl 1):S102-S108. doi:10.1097/SAP.0000000000001326
Locketz GD, Bloom JD. Percutaneous Radiofrequency Lower Face and Neck Tightening Technique. JAMA Facial Plast Surg. 2019;21(1):71-72. doi:10.1001/jamafacial.2018.0917
Integration of Thermal Imaging With Subsurface Radiofrequency Thermistor Heating for the Purpose of Skin Tightening and Contour Improvement: A Retrospective Review of Clinical Efficacy. Accessed July 27, 2020.
Hsu TS, Kaminer MS. The use of nonablative radiofrequency technology to tighten the lower face and neck. Semin Cutan Med Surg. 2003;22(2):115-123. doi:10.1053/sder.2003.50011
Sachdev M, Hameed S, Mysore V. Nonablative lasers and nonlaser systems in dermatology: Current status. Indian J Dermatol Venereol Leprol. 2011;77(3):380-388. doi:10.4103/0378-6323.79733
Chipps LK, Bentow JJ, Prather HB, et al. Novel nonablative radio-frequency rejuvenation device applied to the neck and jowls: clinical evaluation and 3-dimensional image analysis. undefined. 2013.
Elsaie ML. Cutaneous remodeling and photorejuvenation using radiofrequency devices. Indian J Dermatol. 2009;54(3):201-205. doi:10.4103/0019-5154.55625
(PDF) Monopolar radiofrequency facial tightening: a retrospective analysis of efficacy and safety in over 600 treatments. Accessed July 27, 2020.
Polacco MA, Luu T, Ni G, Attenello NH, Dicarlo A, Maas CS. A Single-Center, Prospective Trial Investigating Effects of Combined Infrared, Radiofrequency, Mechanical Massage, and Suction Treatment on Submental and Lateral Neck Tissue Contouring. Am J Cosmet Surg. July 2020:074880682093857. doi:10.1177/0748806820938570
Montes JR, Santos E, Chillar A. Jowl Reduction With Deoxycholic Acid. Dermatol Surg. 2020;46(1):78-85. doi:10.1097/DSS.0000000000001869
Handley JM. Adverse events associated with nonablative cutaneous visible and infrared laser treatment. J Am Acad Dermatol. 2006;55(3):482-489. doi:10.1016/j.jaad.2006.03.029
Kalra R. Use of barbed threads in facial rejuvenation. Indian J Plast Surg. 2008;41(3 SUPPL.):S93. doi:10.1055/s-0039-1700480
Hwang SR, Kim IJ, Park JW. Formulations of deoxycholic for therapy: A patent review(2011 – 2014). Expert Opin Ther Pat. 2015;25:1423-1440. doi:10.1517/13543776.2016.1102888
fda, cder. HIGHLIGHTS OF PRESCRIBING INFORMATION These Highlights Do Not Include All the Information Needed to Use KYBELLA ® Safely and Effectively. See Full Prescribing Information for KYBELLA ®. KYBELLA ® (Deoxycholic Acid) Injection, for Subcutaneous Use Initial U.S. Approval: 2015. www.fda.gov/medwatch. Accessed July 27, 2020.
Shridharani SM. Novel Surface Anatomic Landmarks of the Jowl to Guide Treatment with ATX-101. Plast Reconstr Surg – Glob Open. 2019;7(10):e2459. doi:10.1097/gox.0000000000002459
(PDF) Understanding the Female Hispanic and Latino American Facial Aesthetic Patient. Accessed September 29, 2020.